The You've Got This platform is designed to connect you, a professional, to startups looking for expertise. As a follow-up to our recent article, Getting matched and making the most of the platform, we share some data to help you decide on your platform daily rate.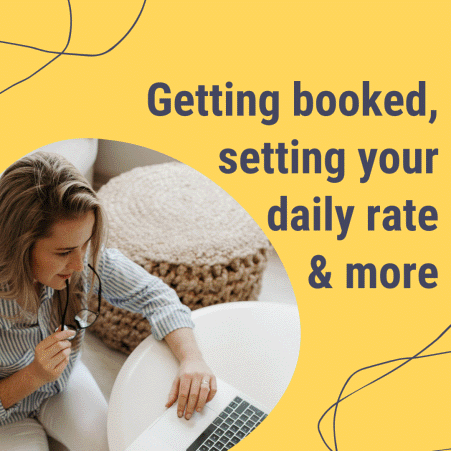 Startups and SMEs are the backbone of the UK economy, making up 60% of businesses! For young companies like these, it can be hard to find core business skills. Not only that, they often can't afford full-time, permanent employees. This is where you come in, startups get access to your knowledge and experience, while you get to build your networks, use your talents and play a part in building the next big thing.
Given the current environment, you might be wondering how much you should charge for your expertise. Hopefully, the information we give you below will help you when setting your daily rate and improve your chance of getting booked.
Your daily rate
We conducted a survey asking startups what they would be willing to pay for different roles on a daily rate. Granted some are extremely well funded, founding teams have told us that they have much lower budgets than scale ups or corporates.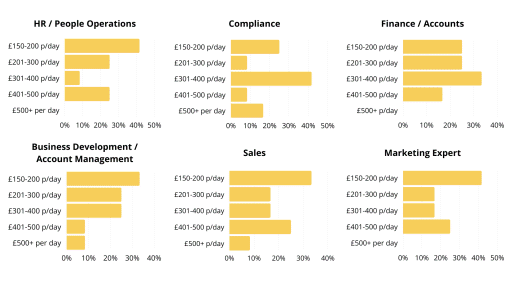 The results of the survey weren't as black and white as we'd expected, but give you some insight into what you could charge. If you're open to negotiation on your daily rate, make that clear in the 'opportunity' section of your profile.
If you're really inspired by what a startup is doing, you may be less focused on your daily rate and be more interested in the long-term opportunity it may present! Working with these companies is a great way to diversify your career portfolio, and who knows where these new connections will take you.
An insight into who is on the platform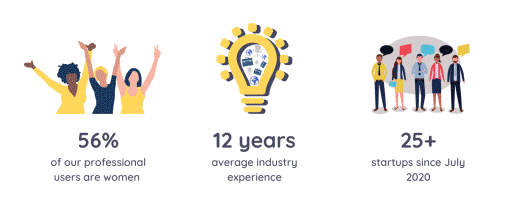 Our professional user base is growing by 30% each month, meaning we have a huge variety of skills already available. Users have an average of 12 years industry experience and an amazing 56% of our professionals are women!
Our focus for the professional side of the marketplace is on professionals with business skills and giving them the opportunity to engage early with startups and make a real difference to performance and growth.
Here's a glimpse of what our professionals currently bring to the table!

Popular searches
Right now we're seeing a lot of startups searching for Financial Directors and Chief Operating Officer, Sales, People Operations and Product Managers. As our startup community continues to grow, we expect the range of searches to expand with it.
We hope you found this useful? Feel free to get in touch with the team at [email protected] any time!
What else you can do
Have you completed your profile? Here's our quick guide on where to prioritise your time and appeal to startups.

Author - Kamala Middleton